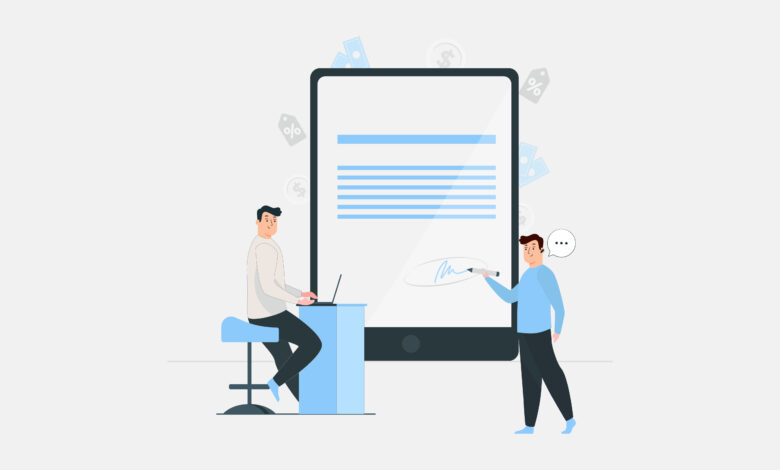 Introduction
Most documents are sent virtually in the form of PDFs these days. If one receives documents electronically in the form of PDFs, it makes sense to have these PDFs signed electronically and send them out fast. In this article, we will speak about how to sign a PDF. Read on to learn about signatures and how they are needed today.
When you have the right solution available, then electronic signatures are the best bet for any business or organization. They can also be well within an organization's budget and easy to be deployed. In today's world, signatures offer a host of advantages, such as they help an organization or a business to reduce their overall costs, enhance productivity, reduce risk and also offer support to digital transformation initiatives. Research states that with eSignatures, organizations can:
Reduce the sales cycle from a minimum of 8 to 10 days down to 3 hours
Minimize costs by around 30% and help with revenue growth of more than 30%
Hugely enhance onboarding and hiring—sometimes, as much as 80% less time to onboard the new hires.
Sign PDFs electronically with Signeasy
Signeasy's eSignature solution helps you to fill in the details in a PDF and sign a PDF and other document formats easily and quickly. Signeasy helps in:
Importing and Filling a PDF: Including PDFs, you can now import PDFs in more than twenty-five different document formats and fill in all the required fields easily.
Signing PDFs: Type, draw or upload your signature on the Signeasy platform and sign documents immediately.
Sharing PDFs Securely: Share the signed documents with signers in a secure fashion with the click of a button.
How can you sign PDFs for free
Signeasy helps with the whole process of form filling and also online signing. Following are the steps to follow to fill and then sign a PDF without having to create an online account.
You can select either 'Upload File' or choose 'Drag and Drop' the file into the Signeasy platform.
Specify your email address and select 'Start Signing.'
Type, draw, or upload the image of the signature.
Verify the email ID with the help of a secret code.
Complete the signing, and then you can download the PDF immediately.
Detailed steps to sign a PDF
The following steps provide all the necessary details to sign a PDF using the Signeasy solution.
Click to drag or upload a PDF file from the desktop or any other location on your system. Signeasy helps you to select from twenty-five plus document types, like Word, PDF, Open, Excel, and so on. You also have the option to import documents from the cloud storage platforms, such as Box, Google Drive, OneDrive, or Dropbox.
Specify the e-mail address and select 'Start Signing.'
Add the signature field. All you need to do to add the signature field is to add annotations and then select the 'Signature' button. Now, drag and drop the signature box to a specific point where you require the signature. You also have the option of formatting the PDF by adding fields like text, date, checkboxes, and so on.
Type, draw, or upload the signature. If you prefer a signature that is handwritten, then simply choose 'image' to add the image of the signature. You also have the option to remove or erase the signature or also redo it.
Legally bind the signature by confirming your email address. A verification code by Signeasy is sent to the email address. All you need to do is verify your identity by sharing the one-time code.
Complete your signing. Select 'Done' to complete the document signing.
The document is ready to be downloaded and shared. You will now get a time-stamped audit trail and the document that is signed in your inbox.
Electronic signatures – a necessity
With the hybrid setup that has been established in today's world, organizations have to continuously share crucial documents quickly. Earlier, signing PDF files meant having to print, sign, scan, and then resend the files. Most organizations are now avoiding this repetitive and redundant process which helps their business and clients save a significant amount of time. Extremely slow processes can only postpone crucial business interactions. Contemporary and instinctive eSignature platforms like Signeasy can entirely change the manner in which you conduct your business. You can sign and collate signatures from any digital device and save the costs of having to print, scan, and send emails. You can also track a document's progress, direct reminders, and integrate the solution with your favorite tools to enhance collaboration and increase productivity across departments such as sales, HR, operations, and so on. Using Signeasy, you can add hyperlinks in a PDF using Adobe, Microsoft, or also Google Docs. Hyperlinks are typically used as references to other pages. However, the document's intention will determine how important it is to add hyperlinks to the PDF. For example, you could want to add a table of contents that is clickable to your ebooks, quote outside resources for the article, or navigate the reader quickly to a different page on the website to receive more information on a specific subject.
Conclusion
It is very easy to get caught up in all the buildup that surrounds digital transformation and consider it as something for the future. However, digital transformation is very much about the present.  In this day and age, all you will see are digitally transformed companies with a competitive edge. Go digital and learn how to sign a PDF with the best solutions, such as Signeasy.